[ad_1]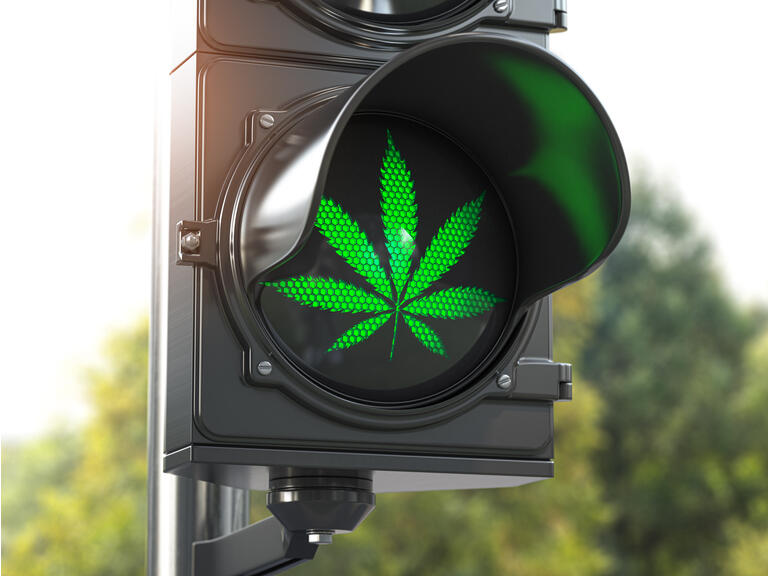 I couldn't remember the last time I devoted an entire article to talk about cannabis real estate investment trusts (REITs). Also known, perhaps less impressively, as marijuana stocks.
Calling the product in question "cannabis" makes it seem so much more professional, doesn't it? And, regardless of your personal opinion about this particular greenery, facilitating, growing, processing, and selling it is a profession.
A legal one too.
At least it's legal-ish.
I'll get to that in a moment, right after I answer my own question of when I wrote about cannabis REITs last. Apparently, it wasn't that long ago at all.
On November 11, not even two months past, I published "Cannabis Real Estate Is Smoking Hot." It feels like it's been far longer than that, but my Seeking Alpha articles page doesn't lie. So I won't argue.
In case mid-November feels like a lifetime ago for you too though – or if you didn't get to read the piece in the first place – let's go over where cannabis as an industry stands once again.
It sure isn't federally approved… only federally accepted to some extent. Naturally, that leaves it in a very odd space.
It's a profitable one all the same, especially for the landlords who lease to them. In fact, the very oddities of current legislation is part of why cannabis REITs today are in such impressive financial positions.
The Current Cannabis Condition
To quote USA Facts:
"While marijuana remains illegal at the federal level per the 1970 Controlled Substances Act, the U.S. has become a patchwork of state-determined laws pertaining to the drug. Some states have legalized recreational marijuana, others allow medicinal use and/or CBD oil, a few states have merely decriminalized the plant, and a handful follow the federal guidelines."
Considering the big to-do over each new state voting for those various measures… it's safe to say the feds know about these blatant acts of disregard for national law. But they don't do anything to stop them other than make it legally impossible for interstate actions.
That and inconvenient to get proper funding.
Because of current federal legislation, most financial institutions simply will not lend to them. Which is an absolute bother for these companies – unless they team up with select partners.
This is where cannabis REITs come in, essentially serving as bank alternatives. More often than not, they'll buy property from existing cultivators, then lease it right back to them.
That way, the growers get what they need – quick cash – and their new landlords get the promise of steady monthly income, often over significantly lengthy contracts. It's a win-win for both parties. Plus, as more states legalize marijuana use in some form or another, there will be more for both parties to work with.
I believe 37 states have legalized medical marijuana, and 18 now permit recreational use. And who knows what state will pass more permissible laws next. This is a mid-term election year, so we could see more openings up for a vote.
Certainly, industry experts believe something will change in their favor going forward. The legal cannabis industry is expected to grow from $16 billion in 2020 to more than $40 billion in 2025.
Should Cannabis REIT Investors Be Concerned?
Now that you know all of that, it's perfectly understandable if you're thinking that federal permission would actually hurt cannabis REITs' case.
If these operations can get funding anywhere, why would they continue to make deals with landlords?
I honestly don't expect that to be a problem at all though considering what good relationships these REITs are building with major growers. Not to mention that the men and women who manage them are smart, savvy businesspeople. They understand their market and how to manage it.
In short, I see them as survivors regardless.
But as far as-is, well, here's what I wrote in November:
"One of my home state (South Carolina) politicians, Nancy Mace, drafted cannabis legislation that's being circulated for feedback. Titled the States Reform Act, it's expected to be officially filed later this month.

"Mace, a Republican, is advocating marijuana legalization that looks like a compromise between mere de-scheduling – another GOP proposition that seeks to protect states that have legalized marijuana, but not much more – and the much more involved legislation proposed by Democratic leadership.

"According to Kyle Jaeger with marijuanamoment.net, 'This is yet another development in what's proved to be an active year of cannabis reform on Capitol Hill.' And he adds:

"'Getting Republican buy-in could prove critical to getting something over the finish line, and the Mace's measure seems aimed at appealing to the states' rights and business interests of conservative colleagues on her side of the aisle while also incorporating some restorative justice and tax elements largely favored by progressives.'"
Yet so far, that's gone nowhere, as far as I know. Which is pretty much as expected, I'll admit.
That's what federal-level marijuana proposals seems to do: stall. Unlike the profits cannabis REITs keep rolling up.
I mean rolling in.
Interviewing a Cannabis REIT: Innovative Industrial Properties
As most of you probably know, I conduct interviews with CEOs and other company executives on iREIT on Alpha. And on December 2, I got to publish one with Innovative Industrial Properties (IIPR) CEO Paul Smithers and CFO Catherine Hastings.
For those who don't know, IIPR accurately describes itself as:
"… the pioneering real estate investment trust for the medical-use cannabis industry… We believe that our sale-leaseback and other real estate solutions offer an attractive alternative to state-licensed medical-cannabis operators who have limited access to traditional financing alternatives."
And judging by my interview, it's optimistic about the future.
Hastings, for one, doesn't downplay the current importance of REITs to the industry:
"… to have that ability to grow as this industry is growing and be there lockstep with those multi-state operators as they're expanding their platform is critical to them. I think also, people downplay the significance or the difficulty of just operating and executing on a real estate transaction that's cannabis-affiliated. It's hard."
Yet, she added, Innovative Industrial has made amazing inroads over the last five years. It's become extremely adept at making things happen for both it and its tenants.
In short, it can close on the transactions its operators want to be a part of. Yet without losing anything from those deals. As Smithers stated:
"We have a built-in average 3% escalator. And we have a weighted average lease length of about 16.5 years…

"As far as conversations with the operators and inflation, I think if you're a successful operator, you still have excellent margins. So they're still being able to really do well. Maybe their operating expenses go up. Maybe payroll goes up. But yes, in those states, most of the states we're in, it's a strong cannabis price."
Naturally, that's by design.
Innovative Industrial REIT Continued…
IIPR doesn't go where it's not wanted. And because it's the best, it gets to make deals with the best in those profitable places.
Therefore, there's not much concern here that its tenants won't be able to keep paying rent same as always.
Moreover, while Hastings openly admitted that, five years ago – when it first started out – its only options were equity and using its common stock to grow. Yet last May, it was able to put out its first bond offering.
How times have changed for this pioneer landlord.
"We're thrilled to have options for capital raising and to be able to have a non-dilutive method to leverage our portfolio… And I think we see the value of managing going forward with a little bit more leverage to the portfolio now that we have this option."
It also has its at-the-market program in place, giving it even more room to move forward opportunistically. That's why I don't think Smithers was bragging when he said that:
"If we maintain the status quo at the regulatory level and we don't see a lot of new capital options coming into the marketplace, I think we can enjoy some really spectacular growth. Whether it'll be the same as we've had in the last one, two, [or] three years, I don't know…

"But just talking to our [multi-state] operators and what their growth plans are and how they have their target on states – Pennsylvania, Ohio, Texas, Alabama – all these states that are just poised to really take off."
As such, he sees more amazing opportunities to IIPR.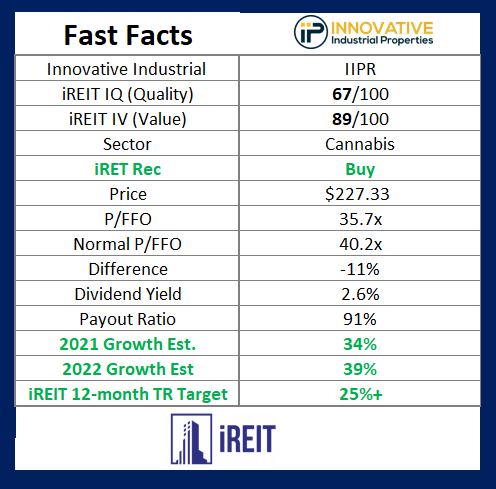 Interviewing a New Cannabis REIT: NewLake Capital Partners
I can't exactly say "up next was" NewLake Capital Partners (OTCQX:NLCP) since I spoke with its Chairman in November. But it was another interview worth touting here today regardless.
As its Chairman, Gordon Dugan, pointed out, it's "the only REIT in the cannabis space that's had 100% rent collection" through the pandemic. The company describes itself as:
"… a leading provider of real estate capital to state-licensed cannabis operators. Founded in 2019, we are a triple-net lease REIT that acquires industrial and retail properties through sale-leaseback transactions, third-party purchases and build-to-suit projects. Our tenants are some of the leading operators in the U.S. state-licensed cannabis industry, and we are a trusted partner for their real estate needs."
With a market cap of about $700 million, it's the second-largest cannabis REIT out there. As Dugan puts it, "IIPR is obviously way out in front as number one. But we are way out in front as number two."
And, again, even Innovative Industrial Properties can't say it collected 100% of its rent during the worst of the shutdowns. That gives NewLake quite the bragging rights, which Dugan isn't shy about capitalizing on.
The way he sees it, "that's a testament to the quality of our portfolio."
He might, admittedly, also have a chip on his shoulder judging by the following comments:
"… the New York Stock Exchange and Nasdaq have taken the position that owners of real estate that's leased to cannabis companies cannot be listed… I'm not sure why they allow IIPR to be listed. I think it's wrong. No two ways about it, but they do. And they grandfathered it because it snuck in a few years ago under the coal memo."
Again, it's clearly a sore issue. But he does seem to be making the most of it.
NewLake Capital Continued…
Dugan did note that the OTC market his company lists within is "surprisingly good." Large foreign companies that want to list ADRs… community banks… those are the OTC brethren it's found.
As for the latter, they're large, well-run, right down the middle of the plate companies, he says. So it takes the sting out of the boosted liquidity being listed by the majors carries. Moreover:
"I think there's a reason why the mortgage rates have come up with very convoluted ways to list on the major exchanges. But I don't understand a mortgage rate that can't foreclose on the real estate. So if you make a loan to a real estate borrowed and they can't repay you, by charter, the mortgage REITs are incapable of foreclosing.

As he pointed out, there's "got to be some sort of structural disadvantage in that."
The bottom line, however, is that he 1) knows many investors are concerned about NewLake's OTC listing. But 2) that hasn't stopped it from seeing "pretty good volume" that can help "grow the business"… ultimately achieving even more where that came from.
I also found it interesting that he believes there's a good chance some bipartisan solution will come up this year. And, for the record, that's hardly something he's afraid of. If anything, he welcomes it.
Even as-is though:
"We have a list of target markets. And I think the best way to describe our strategy from day one has been limited licenses states: states where licenses are highly regulated. The production and sale of cannabis is highly regulated in Illinois, in Massachusetts… Pennsylvania, New Jersey, New York will be in that category. And it allows the operators to make money, which allows the operators to pay their rent.

"… we think that in those states, the licenses act a little bit like a moat around the businesses. They have value of their own. You can't just rent a warehouse and start growing cannabis and start selling it."
And, believe it or not, that makes it easier for NewLake Capital in many ways. "It's more understandable and predictable" how operators make and keep their money, he says.
I'll include one more quote from him that I think is very relevant to this cannabis REIT overview:
"If you want to analogize, we're in the early innings. We're like the gaming REITs several years ago. There's all this opportunity. You're still getting very high cap rates. There's a chance to get really big."
He says his hat's off to IIPR for growing as fast as it has. "They're the VICI [VICI] of cannabis." But NewLake wants to be that too. "And therefore room for more than one" in this space.
Interviewing a Cannabis mREIT: Advanced Flower Capital Gamma
Now, this next interview was back in July. I interviewed Leonard Tannenbaum, CEO of Advanced Flower Capital Gamma (NASDAQ:AFCG) during that warmer month. But I still see the chat as being relevant.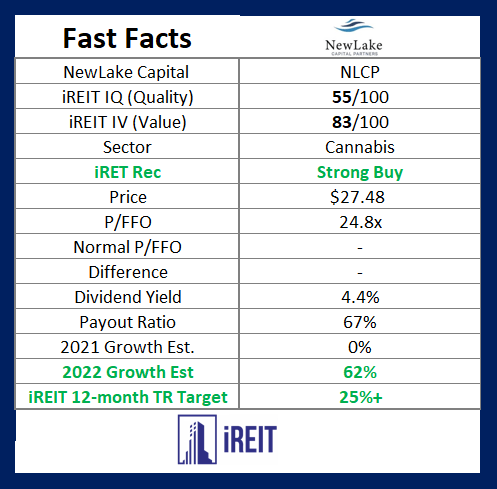 Here's how the company describes itself:
"Advanced Flower Capital Gamma… is a leading provider of institutional loans to high-quality cannabis companies nationwide in all aspects of production: cultivation, processing, and distribution. We offer loans and related facilities, generally secured by substantial assets [that] rely on a repeatable process that screens for creditworthy, high-profile borrowers. With years of combined lending expertise and real estate experience, AFC Gamma's principles are now focused on the exponential growth of the cannabis industry.

Incidentally, since it's a mortgage REIT in this area, it's listed on a major index. It's been "a rollercoaster ride as the" Nasdaq's first cannabis lender. And while he knows "there'll be others… it's always great to be first."
To start AFC, Tannenbaum put more than $50 million of his own money to work. He essentially saw the opportunity and went for it. So he's more than a little personally vested.
As for federal legislation concerning the larger industry, Tannenbaum believes certain states will spend billions of dollars propping it up individually. It benefits them to keep things locked within their own borders.
Their senators know that. Plus, he doesn't think Biden would support a nationwide approval anyway.
With that said, a Safe Act pass would be especially great, he noted, despite the added competition.
"Even though we may still see some yield compression from state banks coming into the market, that's going to be offset by our borrowing ability and borrowing costs. So we'll be able to borrow cheaper."
Yet he was right that nothing major (or minor) happened last year in this regard.
Advanced Flower Capital Gamma Continued…
So how do you finance cannabis deals? He both asked and answered that question for me:
"You can finance it with equity, you could finance it certainly with sale-leasebacks, which has been a traditional form of financing. And you can now finance it with a loan."
He's not betting on any big industry moves on the federal level right away. But definitely one in the next five years. In which case,
"If you're a borrower, why would you sign to a 15-year sale-leaseback when you can borrow for 3-5 years and refinance it cheaper and not be stuck with 13%-12% plus escalators, which in effect is a much higher form of capital?"
Clearly, he's not a fan of – or afraid of – his equity REIT competition.
"Some of these sale-leaseback companies brag about their average maturities over 15 years. Well, the borrowers still at that and they say, 'Well, we don't want to do that.' Right? 'We want to control our destiny.'
Because of those dynamics, Tannenbaum and – he claims – "any true industry expert" expects 15 winners to emerge from the industry.
"Look. This is like farming, right? It's cannabis. It's industrials… And so you're seeing a consolidation move over the next year or two."
He thinks it's "pretty exciting" to watch. But he's also quite busy making things happen in his own area of expertise. Like the other REITs mentioned here, AFC Gamma is very careful about where it invests. At last check, it wasn't operating much or at all in California, Washington, Oregon, or Colorado.
Instead, it's the limited license states that are appealing. "We know how to secure the licenses, and we feel that's really important because the supply-and-demand dynamics in those states are much, much better."
So much better, in fact, that it was able to start a second secondary offering shortly before the interview. "It takes time to ramp and scale," he acknowledged. But he expects nothing less to happen from here on in.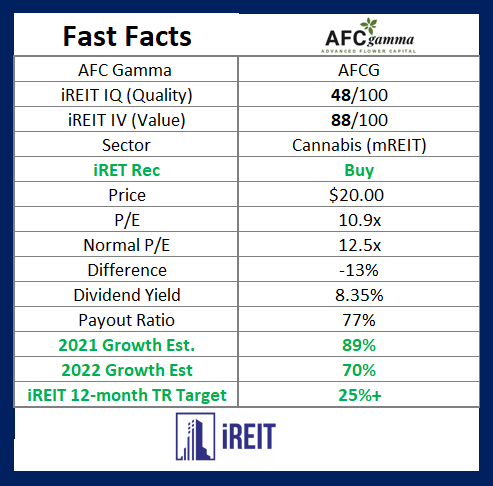 Interviewing a Cannabis REIT: Power REIT
The last interview I'll cover in this piece is my most recent one. I just published it on Friday, so it's about as new as new can be in this regard.
And so I give you the one and only Power REIT (PW), which was my smashingly successful – and probably once in a lifetime – best-performing pick of 2021.
David Lesser is CEO of that company, and he provided very informative conversation, just as expected. But before I get to that, here's the company's description.
Again, according to its website, Power REIT:
"… owns real estate related to properties for controlled environment agriculture (greenhouses), renewable energy, and transportation… In July 2019, Power REIT announced an expanded focus for acquisitions. In addition to its existing high-quality real estate related to transportation infrastructure and alternative energy, Power REIT is expanding its focus to include agricultural real estate with a focus on… controlled environment agriculture (CEA).

"CEA is an innovative method of growing plants that involves creating optimized growing environments for a given crop indoors. Power REIT intends to focus on CEA related real estate for growing food as well as cannabis."
As the website also says – and as Lesser reminded me during the interview – the company actually dates back to the 1960s. So it's one to recognize and respect. And while its new larger goal is to focus on food crops, all of its transactions under this plan "to date have focused on the cultivation of cannabis."
And, hey,
"a pound of cannabis in today's world sells for a lot more than a pound of lettuce so hence the returns on a greenhouse for cannabis in many cases can look a lot better."
Power REIT Continued…
Like I said, Lesser had some very interesting things to say, including professional details about Power REIT. For instance:
"We're still a relatively small-cap REIT. But because of that small size, the transactions we're doing at these very, very generous yields really drive tremendous growth. And that's rally what's driven the shareholder returns… and why we continue to think we have a good runway ahead of us.

"… first of all, we're not a mortgage REIT. We are focused on ownership of real property. And as I said, our asset class – our real focus is as a greenhouse play: as a kind of… technology play around greenhouses as an asset class. Most of the other companies really shy away from greenhouses because, in my mind, they don't seem to understand that this is the sustainable approach to cultivation of not all crops but certain crops."
He sees that as a good business model – including more limited forays into outdoor farming properties – because greenhouses can't be beat for "indoor" crop growth. They cost significantly less to build and operate than more solid facilities… starting with the comparative amount of energy it consumes.
And, as with the other cannabis plays mentioned above, it's got a plan to grow that is steadily succeeding:
"We just announced actually a week or so ago that we entered into a debt facility, which I think is really a gamechanger for our cost of capital relative to the competition out there.

"We entered into a facility that will give us debt at a 5.52% interest rate. We're able to draw down that debt over a one-year draw period and then have it fully amortize over the next five years. It's a nice piece of debt to allow us to fund some additional growth right in front of us."
At this rate, it's on track to "point to some guidance" for annualized funds from operations (FFO) of $4.60-$5.20 per share.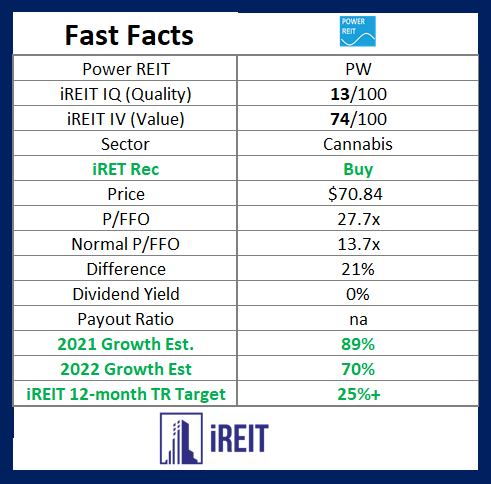 In Conclusion…
Now, REIT or not, it's not paying a dividend at this time. It's definitely more of a growth play than an income play for the time being.
Obviously, it was very worthwhile for iREIT on Alpha members to invest in anyway last year. But do keep that – and valuation – in mind if you want to get in this year.
But here's what I really want to leave you with from the interview: one more informed opinion about federal cannabis legislation.
"My personal sense is we are a very long way from federal legalization. No matter how many times people talk about it – and people talk in the industry how they're pushing for it – the reality is that to declassify… a drug from a Class 1 drug, it has to go through significant amount of study to prove that the benefits – the medical benefits – offset the risks. And that work just simply hasn't been done. Again, while I'm not an expert, I think that the legalization is a long ways off."
So there you have it: multiple views that often completely contradict each other on the national state of the cannabis industry. And yet each one of the REITs mentioned are bullish about their individualized prospects within it.
Again, be careful about valuation if you're going to get involved in these assets. High-flying or not, you never want to overpay for an investment.
But with that said, I don't see them going away any time soon. And neither should you.
[ad_2]
Source link